7 Great Reasons to Move to Niagara
Posted by Jamie Szeibert on Monday, May 30, 2022 at 11:55 AM
By Jamie Szeibert / May 30, 2022
Comment
As prices rise and crowds increase in major Canadian cities like Toronto, many people find themselves exploring the idea of moving away. But where should you go?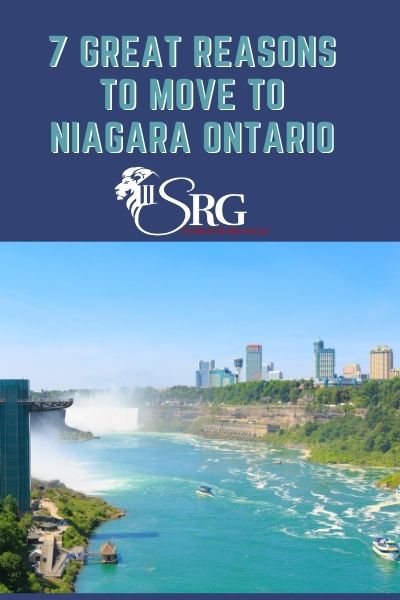 If you have visited Niagara Falls before, you may think of Niagara as a vacation destination or a tourist town, but it is also one of the best places to live in Ontario. Keep ready to find out why moving to Niagara might be just right for you.
1. Cost of housing
What you pay for a small condo in downtown Toronto is enough to purchase a large single-family home on a spacious lot in Niagara. Beautiful scenery, a backyard for your dog and children, and a charming neighbourhood to raise a family or retire in are all waiting for you in Niagara. The cost of your housing is one of the most influential factors determining your financial stress level; consider how a move to Niagara might ultimately change your life.
Read more: New Construction Developments in Niagara
2. Small town charm
The Niagara region is made up of 12 municipalities, each with its own aesthetic and personality. The way it is divided makes the area feel like a collection of tight-knit communities and small towns, a refreshing change of pace from a major city.
3. You can start your own business
If you have an entrepreneurial spirit or a small business idea, getting it off the ground in Toronto can be extremely challenging. The competition from established businesses in your field combined with the cost of renting a space can be suffocating for a brand new idea.
On the other hand, starting a business in Niagara may be considerably more feasible. Rent for your cafe, salon, or studio will be just a fraction of the cost of a comparable Toronto space, and the charming historic buildings present the perfect backdrop. Many businesses in the area also benefit from the year-round flow of tourists.
4. The climate is milder
Of course, Canada is not known for its gentle winters, but Niagara residents experience a much more mild climate than their northern neighbors. The long summers and mild winters are evidenced by the wine country in the area. If grapes can thrive here, so can you.
5. The food scene is already good and getting better
If you love the restaurant scene in Toronto, moving away from a major city may sadden you. In Niagara, however, the foodie scene is thriving. You will have plenty of choices for a family-friendly dinner out, an elegant fine dining restaurant, or a trendy place to grab a cocktail. You have both tourism and a new infusion of young residents to thank for the demand that is bringing top-notch restauranteurs to the area.
6. You will never run out of places to explore
Not only are the world-famous Falls nearby, but residents of Niagara also enjoy exploring the region's 42 conservation areas. One of the local favorites is Ball's Falls, which is magnificent and far less crowded than Niagara Falls. You can also enjoy water sports of all kinds on either of the two great lakes flanking the region, making the most of those long summers.
7. There is always something new to do
Niagara hosts many festivals throughout the year, meaning even in a much smaller city than Toronto you will always have something new to experience. Grape and Wine Festival, Canal Days, Cicada Music Festival, and the Niagara Jazz Festival are just some of the exciting annual festivals in the area. Living in a world-renowned vacation destination usually means dealing with major crowds and traffic, but in Niagara, you get to enjoy these fun attractions while living in a friendly and tight-knit community.
If Niagara Falls seems like a place you'd like to call home, start browsing the latest listings in our entire area. When you're ready, contact my office at any time.
Newest Niagara Falls Real Estate