8 Weekend Projects to Add Curb Appeal
Posted by Jamie Szeibert on Tuesday, May 24, 2022 at 6:30 AM
By Jamie Szeibert / May 24, 2022
Comment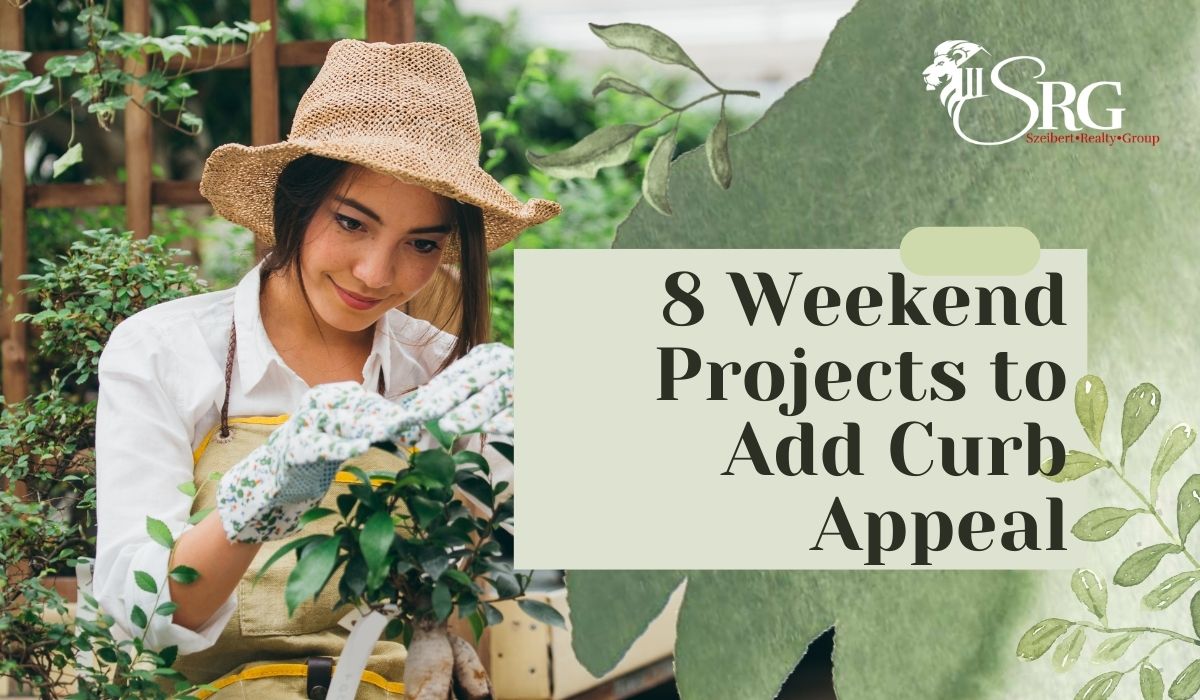 As the temperatures drop and we all spend more time outside, curb appeal takes center stage. If you know your home is in need of a little TLC, check out our ideas for projects you can do this weekend to amp up your curb appeal.
Paint the front door
One of the surest ways to give your home a facelift is to paint the door. If you love the colour but the paint has seen better days, a touch-up or fresh coat of the same colour will go a long way. If you are ready for something new, consider a pop of colour that compliments the rest of the home.
If you really want to go the extra mile, consider a brand new front door or a fresh hardware set.
Power wash
Don't underestimate the power of a power washer. With the slow buildup of grime over time, we often don't recognize just how dirty our driveways, walkways, and home's exterior have become. Rent a power washer for the weekend and give the entire exterior of your home a much-needed spa treatment.
Clean the windows
Much like a power-washed driveway, you might not realize how much impact freshly cleaned windows will make until you see them. This is a physically demanding project, so you may want to hire this task out. If not, it's something you and your partner can tackle in a weekend, and you'll be glad you did.
Update your house numbers
One of the fastest ways to update your home and add instant curb appeal is swapping out the house numbers for something new, modern, and on-trend. All you need a screwdriver and about 20 minutes. Look for numbers that are easy to read and compliment the overall style of the home. Don't choose something too modern or trendy if your home has a historic charm.
You may also want to refresh the house numbers painted on the curb if they are fading or chipping. These simple fixes will help your home look fresh.
Add lighting
Lighting is a great way to add curb appeal to your home. Motion-activated lights also offer a measure of security, which sometimes results in lower insurance costs. There are many options for exterior lighting, including security spotlights, string lights, and solar-powered lights. Consider lining your walkway or garden beds with solar-powered lights that stake directly into the ground and don't require any power.
Pops of colour
A fresh pop of colour can give your home a fresh look and instant curb appeal without much effort or DIY skill required. There are plenty of ways to introduce colour, including:
Flower boxes under the window (feel free to use a high-quality faux arrangement if you need something low maintenance)
Exterior throw pillows or cushions on porch seating
Colourful flower pots at the front door or lining the walkway
Flowering trees or shrubs
Cheerful welcome mat
Flags and tasteful garden ornaments
New mailbox
If your mailbox is dented, faded, or simply looking a little worse for wear, replacing it is a simple DIY project that will make a significant impact on the curb appeal of the home.
Seating
If you have the space, consider adding a seating area somewhere in the front of the home. This immediately helps the home look welcoming and friendly, adding the impression that the neighbourhood is a tight-knit community. Consider adding a porch swing or a pair of chairs to the front patio. If you don't have enough space, a bench or garden swing in the front garden or lawn area will have a similar effect.
For more ideas about making your Niagara home the best it can be for your family, or for resale, contact us any time!
More Tips!
3 Myths You Probably Believe About Selling Real Estate
What to Know About Buying Short Term Vacation Property