Adventure Crystal Beach
Posted by Jamie Szeibert on Monday, July 25, 2022 at 1:27 PM
By Jamie Szeibert / July 25, 2022
Comment
Looking for a way to make lifelong memories on the water this summer? For the first time ever, residents and visitors in the Niagara area can rent See-Doos from Adventure Crystal Beach, in addition to paddle boards, e-bikes, and more. Making the most of your Canadian summer is easy with a self-guided tour or a guided excursion. If you have a taste for adventure, look no further for equipment rentals this year.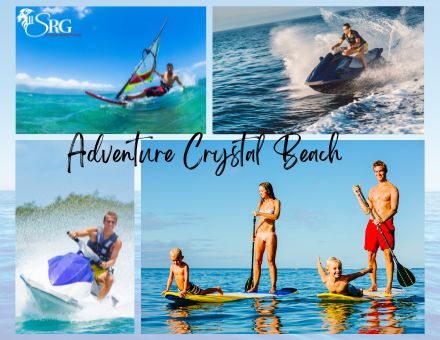 Easy Rental Process
Renting from Adventure Crystal Beach is quick and easy. Start by growing their products and selecting the toy you want to rent, and then complete your booking online by selecting your date and time. The entire process is quick and easy through their website, making this one of the easiest summer plans you will make.
If you prefer to call, or even text, reach out to them at 905-650-5224 with a call or text to reach staff directly and complete a reservation. In many cases, you will be able to book within 2 hours of your rental slot, but they do recommend booking in advance to make sure you secure your ideal equipment and time slot.
When you arrive for your rental, you will fill out some basic paperwork, provide your ID, and get a credit card on file for a deposit. Then you're off to get a safety briefing on your specific equipment and enjoy the water. When you bring the rental back without damage, your deposit will be returned.
This is truly one of the most simple and efficient rental processes, letting you focus on the fun.
Rental Options
Adventure Crystal Beach offers a variety of toys to choose from, including:
Inflatable paddle boards
See-Doo GTX130
Daymak E-bikes
15' multi-person stand up paddle boards
Services for All Levels
Whether you are new to paddle boarding or riding See-Doos or you're a veteran on the water, Adventure Crystal Beach has a service that suits your skill level and preference.
Self-Guided Tours
After getting a briefing on how your rental works, safety precautions, and anything else you may need to know, head out on a self-guided tour to pilot your own adventure. Take a leisurely ride on your e-bike along Crystal Beach or explore the waters of Lake Erie, all at your own pace. This is a great idea for a team building activity, flirty day date, or family day out.
Guided Adventures
If you are looking for a little more guidance from the pros, consider a guided adventure. You will take a guided tour on Lake Erie as part of their "Ride with a Pro" package. Adventure Crystal Beach is proud to be the first business in the area renting out the brand new Sea-Doo GTX130 Pro. With a pro by your side to guide you through the entire process, you will still be in the driver's seat for a major adrenaline rush.
Pre-Booked Adventures
For customers looking for a specifically curated experience, a pre-booked adventure is the best fit. You can book the exact time and equipment you would like, with whatever level of guidance and training you prefer. Adventure Crystal Beach is designed in such a way that their customers can get as much or as little assistance as they choose, a fully customizable rental experience with unparalleled service.
Whether you are looking to plan a vacation in the Niagara area or a staycation as a resident, don't miss your opportunity to enjoy Lake Erie like never before on a brand new See-Doo or a fun and challenging stand up paddle board, or to take in the gorgeous views from your comfortable e-bike. Canadian summers don't last forever, so book your adventure before time runs out this season in Crystal Beach.
Want to live in Crystal Beach full time? Check out the latest listings in this Fort Erie community.