What to Know About Buying Short Term Vacation Property
Posted by Jamie Szeibert on Wednesday, November 24, 2021 at 9:07 AM
By Jamie Szeibert / November 24, 2021
Comment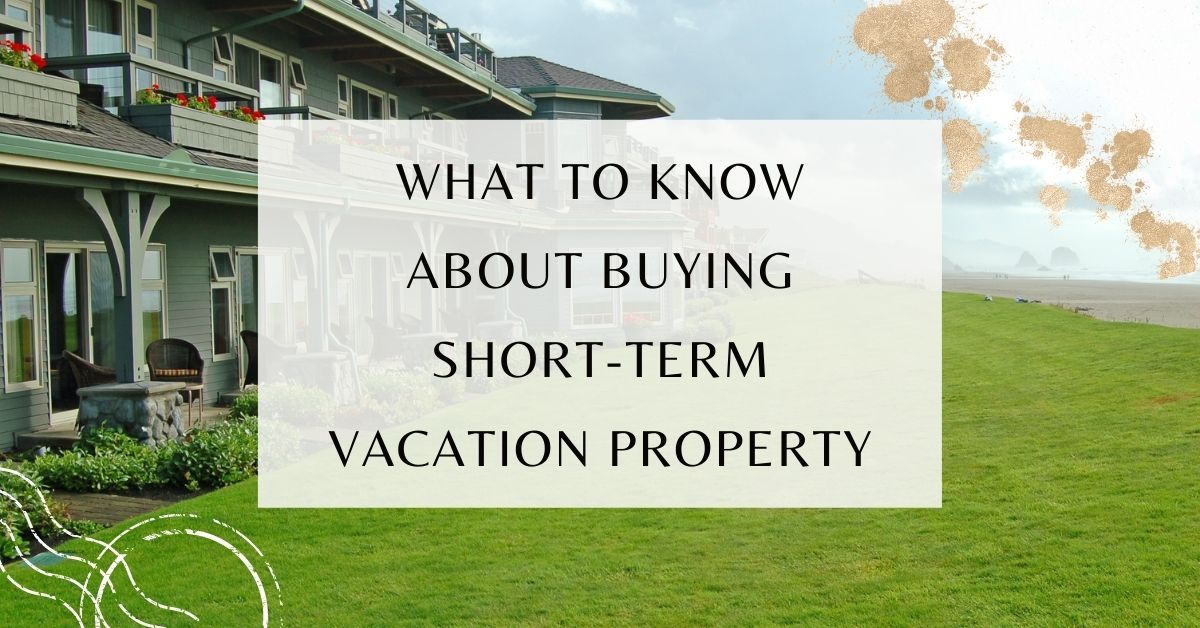 Real estate continues to be one of the best investments you can make, including deciding to buy a vacation rental property.
If you are considering adding a beach property to your portfolio to use as a short-term vacation rental, we have some tips to help guide you through the process.
Why Buy a Vacation Rental Property?
You likely already know that real estate is one of the best investments you can make. Adding to your real estate portfolio is a proven method to build wealth while diversifying your assets. An income property is an excellent way to do this. Owning a short-term rental property or vacation rental property is a great way to do this while also adding value to your life.
When you own an income property that offers long-term leases to tenants, you have a different set of challenges and will not have the property available for personal use. When you buy a vacation rental property, however, you have the option to use the property as your own vacation home while adding another income stream to your life when you aren't using it.
The vacation rental market has grown drastically in recent years, with an increasing number of tourists opting for a short-term rental over a hotel or resort. Experts expect the global vacation rental market will reach nearly $114 billion by 2027. If you buy a vacation rental property, you can set yourself up to get a piece of that pie.
You will also be able to deduct many of the expenses associated with the vacation rental from your taxes, including utility bills, property management fees, occupancy taxes, and mortgage interest. While you will pay taxes on the income generated from the property, the payoff is almost always worth it.
What Kind of Mortgage Can I Get for a Vacation Rental Property?
If you have never invested in an income property before, you may be wondering what your financing options will be. Buying a vacation rental property is a little different from mortgaging your primary residence, but there are options available to you, including:
Conforming loan: A good credit score and a 20% down payment are traditionally required for this type of income property mortgage.
Portfolio loan: A type of loan that generally has more lenient qualifications, available to you if you have a portfolio to borrow against.
Multifamily loan: This is a loan that may work for you if you want to buy a vacation rental property with 2-4 units,
Short-term loan: If you need cash to buy a vacation rental property before you have secured long-term financing, this option might be right for you.
Where Should I Buy a Vacation Rental Property?
After you have decided to buy a vacation rental property and you have an idea of your budget, the next step is to select a location. A few things to consider as you choose a location:
What are comparable properties in the area charging?
What are the occupancy rates in this area?
Is this a place I want to vacation when the property is not booked?
Is this location close to a major airport?
Are there good amenities and attractions nearby?
There are many profitable locations that will fit the bill. The Niagara Falls real estate area is currently one of the most profitable rental markets.
What Should I Look for in a Vacation Rental Property?
There are a few things to keep in mind, other than location and budget, as you look to buy a vacation rental property, including:
Access to the property
Parking on-site
Height restrictions, easements, and property line setbacks that may affect your renovation plans
Proximity to airports and major attractions
Outdoor entertaining space
For more information about buying a vacation rental property, or to learn more about Niagara area real estate, contact us today! We have a team of friendly, qualified experts who are ready to help.