Let's take a moment to talk about how we use both traditional and online strategies to promote your home to the largest group of qualified buyers.
---
An
Intelligent

Approach to Selling

Selling real estate entails countless market variables. In order to achieve a seamless, lucrative sale, you'll want to partner with an experienced team that leaves no detail overlooked in preparing, marketing, and listing your home.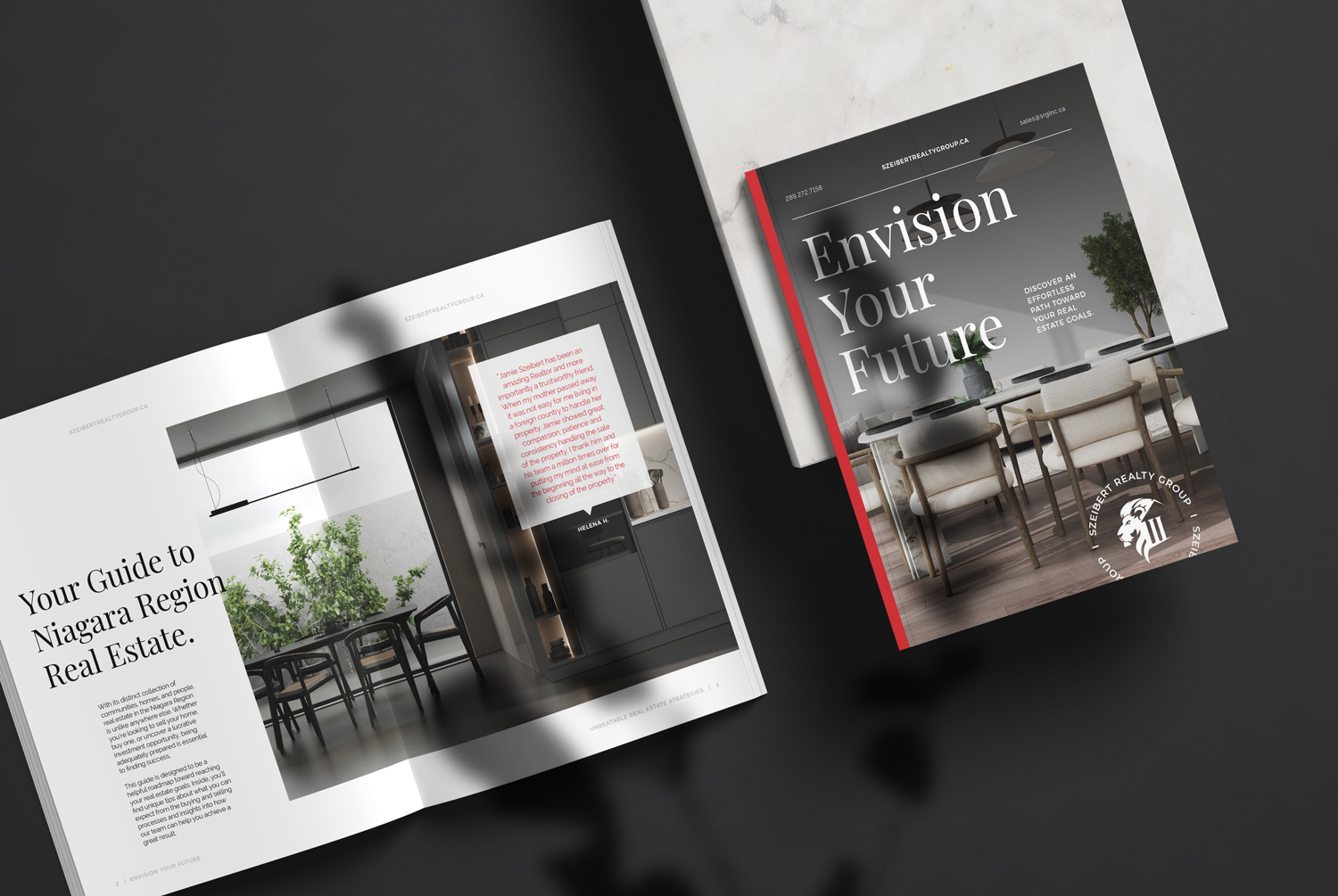 ---
What's built into our strategic, industry-leading selling tactics?
First-Class Real Estate Guidance: Szeibert Realty Group's personable approach to real estate has continuously raised the bar of excellence across the Niagara Region. We treat every client as our number one priority, providing a first-class luxury service at every step of the selling process.
Elevated Exposure: Rather than merely advertising on a local basis, we list our properties on multiple real estate boards, including Toronto and syndicates across Ontario - elevating your home beyond the scope of the competition.
Far-Reach Marketing: Our innovative marketing tactics embrace the latest technological innovations along with tried and true methods to ensure your home reaches the best possible buyer candidates. We utilize gold-standard HDR photography and 4K videography to highlight your home's best features. Covering all major social media platforms and 70+ websites in 35+ countries, we use highly strategic advertising campaigns to get your home in front of the right buyers.
Meticulous Pricing: Selecting your listing price is just as important as having a strong marketing plan in place. An optimal listing price should adequately reflect your home's comparative market value while simultaneously maximizing its allure to potential buyers.
Trust & Transparency: While navigating the market is no small process, we're committed to mitigating your stress wherever possible. Our team is available around the clock to answer questions, alleviate uncertainties, and help you quell any concerns that may arise.
---
Where other agents cut corners, we step up to the plate to amplify your chances of an easy, high-return sale.
---
---
Our Seller's Service Guarantee
Whatever the market may look like, Szeibert Realty Group's industry-leading selling services can help you find success. With your sale as our top priority, we'll work tirelessly to ensure you get the outcome you deserve.
Our industry-exclusive Seller's Service Guarantee allows you to cancel your listing agreement with us at any time. Until you accept an Offer to Purchase your home, you can fire us without penalty - even after just a day.
---
We believe so strongly in our approach that we're willing to invest our top resources in your sale at no obligation to you

.
---
"Yellow Gables" ~ 3855 St. James Avenue, Niagara Falls, Ontario
Listed by Jamie Szeibert, Szeibert Realty Group
As always, if you have any questions about the home selling process, please call, text, or email us today!